The Ginza District
Diane M. Sattler, Ph.D.
7 Jul 2015
Diving into the human river that flows into the upscale, most glamorous shopping area of Tokyo, the Ginza district, for the first time is almost overwhelming. Daytime teems with an assortment of well-dressed, middle-aged Japanese, young people with counter-culture style, and gaijins (rough translation: foreign barbarians) such as myself gawking at the tall buildings and wondering where to go and what to partake of first.
For me, the experience of seeing the Ginza can only be compared to visiting such U.S. icons as the Las Vegas Boulevard or New York's Broadway. It's truly a site to behold during the day, but at night, the Ginza comes alive with a cacophony of colors, lights and sounds that has to be experienced at least once during a stay in Japan.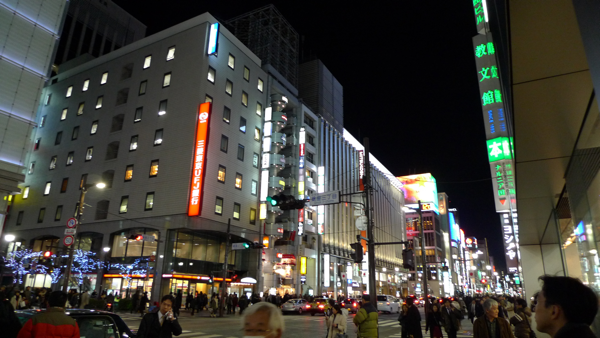 Photo credit [Yosomono](https://www.flickr.com/photos/preetamrai/4221664273/)
Not only shopaholics can enjoy it, even those who hate to shop, like our website guru, Adam, can find it intriguing. It's a cultural experience not to be missed, so let's take a look at what is in the district itself, and a couple of spots within a short distance of the Ginza.
The Ginza District
The Ginza District was named that when the Japanese government moved the silver mint to the area: "gin" means silver and "za" means guild. Now it's more like the gold district, as the 1.5 mile shopping area has the most expensive land prices in Tokyo, the city of sky-high land prices. The Ginza is also home to some of the most exclusive and pricey stores in the country. From mid-day to sunset on Sundays, the central part of Ginza is closed to vehicles and pedestrians take over the oddly serene streets to shop their hearts out.
Photo credit [Cristina Bejarano](https://www.flickr.com/photos/cristinabe/5200542176/)
Fashion stores
Where do they shop? At some of the most prestigious international fashion stores and upscale department stores literally from A to Z, featuring French, Italian and American fashions—and nearly everything in between. Following are some specific stores to entice you: Adidas, Armani, Barney's, Brooks Brothers, Burberry, Coach, Dior, Gucci, Lavin, Louis Vuitton, Mt. Blanc, Opaque (also has a restaurant), Prada, Salvatore Ferragamo, Tiffany and Co. and Zara.
Japanese stores
When in Rome, do as the Romans do, and when in Japan's famous Ginza district, stopping by some of the Japanese stores is almost a requirement. They include:
Matsuya department store — features fashion and home goods
Hankyuhinkan Toy Park — usual and unusual toys for kids of all ages
Mikimoto — offers a Japanese brand of pearl jewelry
Sony — the name that everyone recognizes has eight floors of high-tech stuff plus a BMW showroom!
Tenshodo — Japanese watches and jewelry maker that features model train displays on one of the upper floors
Samontha Tiara — has jewelry and handbags
UNIQLO — is a chain of good quality, reasonably priced clothing (remember, all things are relative)
Yoshinoya — shoe store
Department stores and shopping centers
Dover Street Market
Ginza Core
Hankyu department store
Mosaic Ginza Hankyu shopping complex
Printemps department store
Seibu department store
Wako (the most exclusive in the Ginza)
Yurakucho Mario Building Seibu department store (nine floors)
Jewelry and luxury goods
Again featuring Italian, French and other international fashion hot spots, jewelry and luxury goods stores include: Bvlgari, Cartier, Chanel, Chaumet, Furia, Hermes, Mikimoto, and VanCleef and Arpels.
Electronics
Technology fans will find the flagship Apple store (yes, the same Apple that we know and love) prominently positioned at the Ginza.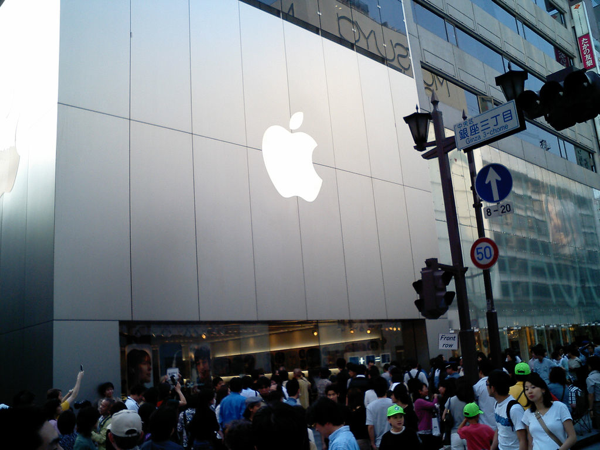 Photo credit [Takanori Nakanowatari](https://www.flickr.com/photos/ope/11596616/)
Joining that is the Bic camera store that sells a variety of electronic items (and cameras) and Muji and Sefmap, another electronics retailer. The early adopters' paradise reveals products that won't be found in the U.S. until years down the road.
Miscellaneous stores
There is a skin care and makeup store, Franci, which is joined by Shiseido's three floors of beauty salons. Itoya offers writing instruments of all kinds.
That wraps up a quick tour of shopping opportunities but doesn't even mention the numerous restaurants. You're on your own there. If your credit cards are maxed out after shopping, opt for a bakery or café for an inexpensive bite to eat. Let's move on to check out the royal family's residence.
Imperial Palace
The Imperial Palace, called Kokyo, is located in the Chiyoda district and is close to the Ginza district. It's worth a visit, as it is the main residence of the Emperor of Japan and the former site of Edo Castle. You may already know that Tokyo used to be called Edo. The palace is surrounded by parks with moats and massive stone walls that used to be part of Edo Palace. Wealthy sponsors built those walls then engraved their marks on some blocks to show that they'd contributed—like the Donald Trumps of the Far East? No, not really. Those marks are way smaller than his.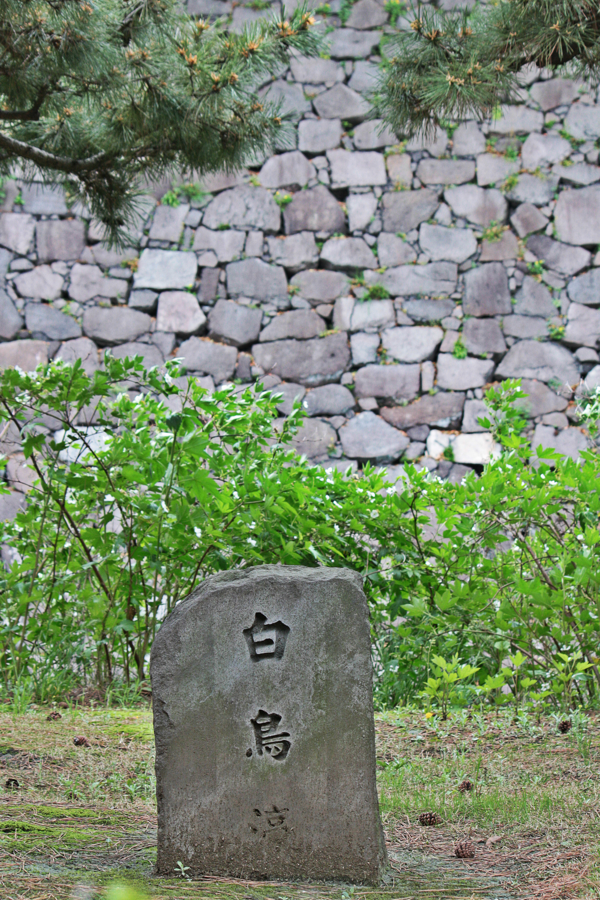 Photo credit [DavideGorla](https://www.flickr.com/photos/66321334@N00/8439039570/)
Touring the gardens
You can still see those marks today when you tour the gardens, which are open to the public. Here are some tips for touring the grounds:
Take your camera and smartphone.
Book your tour in advance as they are very popular.
Although the tours are conducted in Japanese, you can get an English audio guide free of charge.
Large groups of people tour the palace grounds on special days such as Jan. 2nd, (New Year) and Dec. 23rd (Emperor Akihito's birthday). On his birthday, the royal family makes an appearance.
The palace has many gardens, but perhaps the best one is the Tokyo Imperial Palace East Garden. This garden was part of the Edo Castle grounds.
The Nijubashi Bridge, which is one of the most photographed sites in Japan, offers a picture-perfect view of the famous bridge in the foreground and the palace in the background.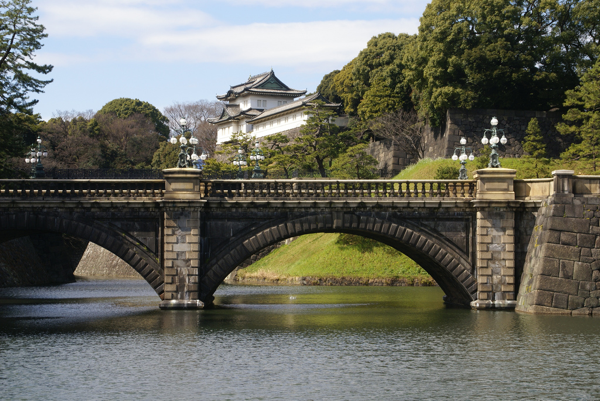 Photo credit [David Baron](https://www.flickr.com/photos/dbaron/3335012002/)
Tsukiji Market
It's hard to imagine any scene so different from the Imperial Palace than the Tsukiji Market. If you're willing to get up in the middle of the night, you might enjoy a visit to the market in Chuyo that is famous for its fish auction. Here are some tips for the intrepid travelers among us:
Don't wear your good shoes. I know that sounds like a joke, but really boots would be more appropriate foot wear as you'll be stepping around or in fishy water.
Get to the market by 3:30 a.m. as only 120 visitors are allowed in to see the actual auction in the inner area.
Unless you bring your own chair or cushion, you'll be sitting on cold, wet concrete or standing for a couple of hours while the preliminary events take place.
You'll be wearing a visitor's vest, which is for your own protection. The market is a very busy place, and you'll have to dodge carts and vehicles rushing in every direction.
You won't be wandering around (see above), so it's lucky you brought that camp chair, isn't it?
In the roped-off area, you'll see some Japanese men studiously evaluating the tuna carcasses lined up on the concrete. They poke at the meat and even taste it to determine the quality and figure out which ones to bid on before the auction begins.
Photo credit [Jay Bergesen](https://www.flickr.com/photos/jaybergesen/280727426/)
Almost before the auction begins, it's over. Don't blink or go for coffee at the wrong time or you just may miss it. If and when you see the auction, you may wonder why on earth you got up that early and waited that long for such a short event.
But wait, there's more. The outer area of the market is crammed with small stands and little spots to get almost anything you want to eat. By this time, you'll be ready for a steaming bowl of udon noodles or in the mood for trying some of the fresh seafood. When you've satisfied your hunger, you can check out the souvenir shops around the outer area.
After your stomach is full and you've bought the perfect gift for the one back home, you think of how you'll enjoy looking at your photos after you get back from your trip. You'll remember the good parts, forget the agonizing early wakeup call and forgive yourself for having to throw away your fishy-smelling shoes. You didn't wear your boots, did you? Tsk, tsk.
Previous:
Peering Into the Future with Anime
Next:
Kolowaza: Japanese proverbs