More of Miyazaki's Works
Diane M. Sattler, Ph.D.
18 Dec 2015
In today's blog, we're going to examine some more of the works of famous animator, writer and director, Hayao Miyazaki.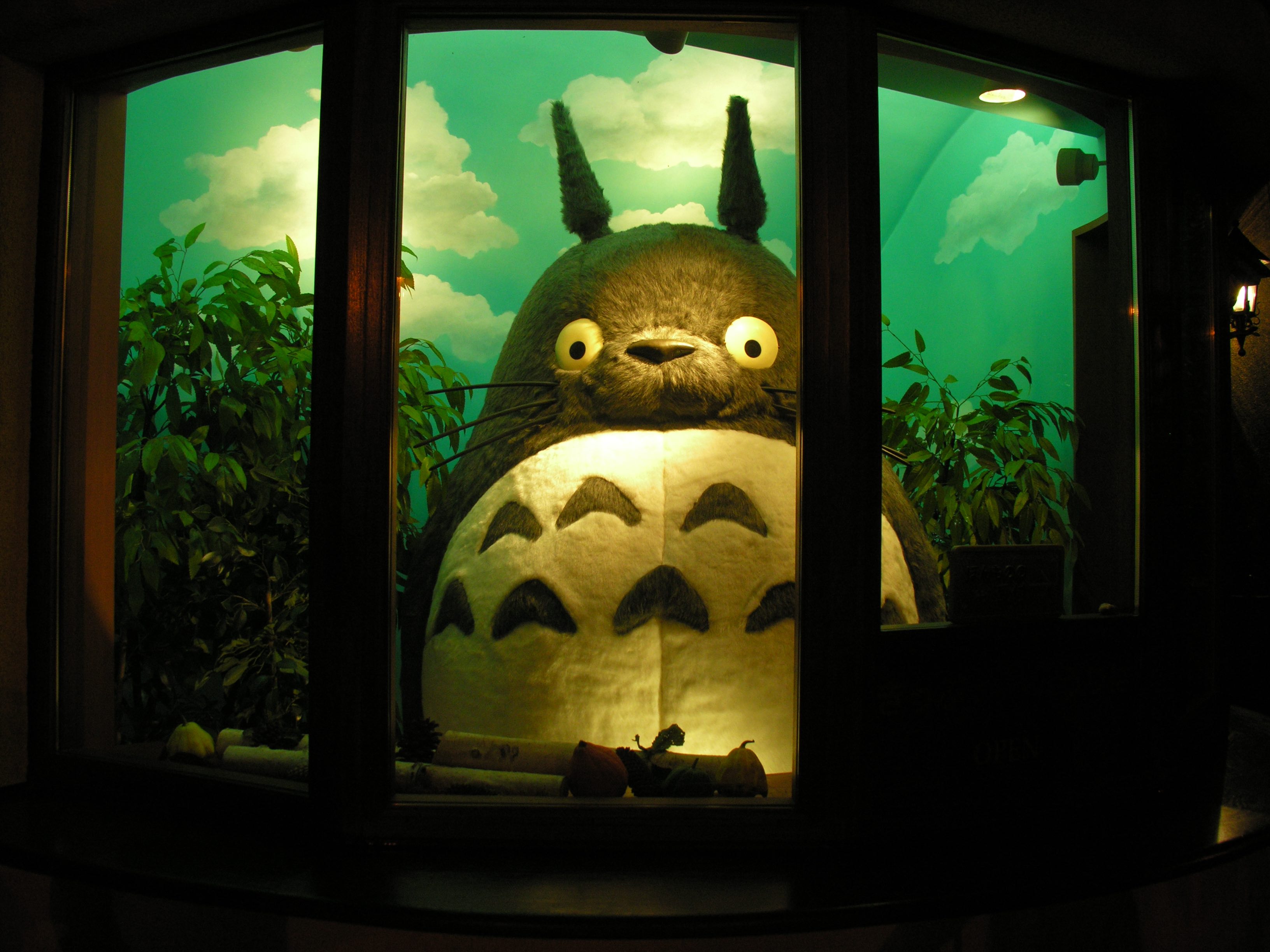 My Neighbor Totoro
Arguably, Totoro is one of Miyazaki's most beloved and culturally recognized. He wrote and directed this iconic film, and for his efforts won four film awards when the film was released in 1988 in Japan. It was released in English several times, including the 2006 dubbed version by Walt Disney Pictures.
We come into the story in 1958 in post-war Japan as a professor is moving his two young daughters, Satsuki and her four-year-old sister, Mei into an old house in a Japanese rural area. They're moving to be closer to their mother, who's in the hospital for a long-term illness. When they move in, they find residents already there: animated dust sprites. That's just the beginning of their experiences with fascinating creatures of the forest.
A couple of magical creatures who lead Mei to the hollow of a large tree where she meets a creature she calls Totoro. Aside: That name is an onomatopoeia, a word that imitates the sound of this creature's roar. Mei is the only one who knows where Totoro lives and the only one who can see him until he reveals himself to both girls as they await their father's return by bus. Totoro rides off into the forest on a cat bus, which captured the public's imagination so that you still can see versions of cat buses on the streets of Japan.
Their mother's having a bad spell, so Mei takes it upon herself to set out for the hospital alone. Worried about her sister's disappearance, Satsuki sets off to enlist Totoro's help, and he brings the cat bus. They locate the lost Mei and set out to the hospital together, where the girls overhear that their mother is recovering from what was only a cold. In the end, she returns home and the girls continue to enjoy playing with their woodland friends.
"My Neighbor Totoro" has become an icon in Japanese society and Totoro images are everywhere. It's highly ranked on lists of all-time great animated films, and the character, Totoro, is one of the top-ranked anime characters ever. The family's house was featured at the 2005 World Expo.
Whisper of the Heart
This 1955 film is a romantic drama written by Miyazaki , who based it on a manga written by Aoi Hiragi. The star is 14-year-old junior high student, Shizuku, as she interacts with her best friend, Yuko, in their hometown of Tokyo.
Shizuku loves to read and write. Eventually, a young man arrives on the scene, and an uncomfortable love triangle with the three friends ensues. Shizuku is translating the song, "Take me Home, Country Roads," for her graduation. She practices singing it at an antique shop, with musical accompaniment by Seiji and his grandfather, who owns the shop.
When Seiji leaves for Italy to study the fine art of violin making for two months, Shizuku's determined to focus on her writing. That becomes very stressful and her grades begin to slip, but she finally finishes the manuscript.
Despite the success of her manuscript, Shizuku decides to finish school before she continues her writing career. When Seiji returns, he, too, decides to finish school before he focuses on his violin making. As the film ends, the sun rises to Seiji proposing to Shizuku to be married in the future, and she accepts.
The Secret Life of Arrietty
Miyazaki wrote the screen play and designed the production, which is based on Mary Norton's children's novel, "The Borrowers." It stars 14-year-old Arrietty, a lass who reaches a mere 4 inches to the floor above. Yes, Arietta and the rest of the Clock family is living under the floorboards in a present-day Tokyo home. They are busy cleverly adapting "borrowed" common household goods to help them survive and get around when their world is disrupted.
The home owner's young, terminally ill grandson moves in and spots the tiny creatures. Although the Clock family generally is terrified of "beans" (humans), Arietta is more open minded and befriends him. This film makes you look differently at the world, reassessing what friendship and maturity are. It also helps you appreciate the little things in life.
The Crimson Pig (Porco Rosso)
Miyazaki departed from his usual style when he directed this film based on his three-part watercolor manga starring, well, a pig. The pig once was human, an air force WWI ace, Porco Rosso, which means "red pig" in Italian. Italy is where he went went when the war ended and he had nothing else to do. Somehow, he transformed into a pig, but one with very human characteristics. He became a bounty hunter in the Adriatic Sea, going after pirates who terrorized cruise ships.
Quickly in the film, a love triangle with Porco, his girlfriend, Gina, and Curtis, an American ace, developed at the hotel that Gina managed. Hot flames of jealously drove Curtis into the sky to pursue Porco and eliminate his romantic competition. He shot Porco's plane, and heavily damaged it. Porco sputtered back into Italy to see his mechanic.
Porco discovered that he was being forced out of the bounty hunting business because the new government was employing pirates themselves for their own purposes. When his plane was repaired, Porco flew back to fight Curtis, proving that he was still alive. Curtis was busy at the hotel run by Porco's girlfriend, Gina. He moves right in, assuming Porco is out of the picture. However, she just laughs and rejects his advances. The film ends in a dramatic, decisive dogfight between Porco and his nemesis, Curtis.
The Wind Rises
"The Wind Rises," a 2013 animated historical drama, was written and directed by Miyazaki who adapted it from his manga of the same name. It was Miyazaki's final directing effort before retiring, which was nominated and given several film awards. Some find it his most thought-provoking production ever, a lifetime achievement befitting the much admired Miyazaki. Walt Disney's Touchstone Pictures released a version in 2014.
The nearsighted hero of this film, Jiro, is sidelined from his desire to become a pilot, so he decides to do the next-best thing—build planes. He's an avid student who graduates with his colleague and friend, Kiro, and they accept jobs with Mitsubishi's fighter plane division. Their first attempt is a bust, literally. The Falcon broke apart mid-air, so the pair went to Germany to research aeronautics. When they returned home, they got another assignment and developed another plane that failed testing. Jiro was losing heart, so he retreated to a resort where he met an old girl friend, Naoko. They get engaged, but she wouldn't marry him until she's cured of tuberculosis, but she worsens and goes to a sanatorium.
Meanwhile, Jiro is working on a Navy project. Naoko returns for a visit and they marry, but her demise is foreshadowed when she leaves goodbye letters scattered around for family and friends, then returns to the sanatorium. While Jiro is test flying his new plane, a gust of wind distracts him, and he recognizes that as a sign that Naoko has died. However, after the WWII is over, her spirit reappears to comfort him as he mourns that the plane he created was used for war.
Photo credits Jodi
Previous:
Hayao Miyazaki
Next:
YKK Zippers: A fastenating company