DisneySea Tokyo
Diane M. Sattler, Ph.D.
14 Aug 2015
The newest part of Tokyo Disney Park in Chiba, Japan, is DisneySea, which opened in 2001 after more than 20 years of planning by Disney's Imagineering. Originally, the park was designed for California, but it seems to have found a happy home outside Tokyo. DisneySea set a record for attendance. It was the theme park that attracted 10 million guests in the shortest time ever, and that number is growing, perhaps in part because this park is adult oriented and offers beer and wine. So if you have agoraphobia, a fear of crowds, you may not want to go, as you definitely won't be alone in the park. If you do go, get a fast pass to avoid long waits for rides and attractions. Let's take an overview of DisneySea and highlight some of the rides and attractions. In this adult oriented park, the only attraction designed specifically for kids is Mermaid Lagoon, but that one appeals to the kid in almost all of us.
OVERVIEW
Everywhere you look, there are seas snaking through the park, covering an astonishing 22 acres (9 hectacres) that hold 41 million gallons (155 million liters) of water. Certainly this is no place to go if you have thalassophobia, a fear of the sea.
There are seven ports of call in DisneySea, which are not laid out in the traditional Disney main street arrangement. Instead, they go in V shaped directions. You come into the park through the Mediterranean Harbor.
PORTS OF CALL
Mediterranean Harbor
As you enter the park, you'll come into Mediterranean Harbor that is surrounded by buildings with Italian facades and singing gondoliers guiding their gondolas down canals. You may get a sense that you're in a harbor town that's a cross between Naples and Venice, Italy. You'll discover that the facades are actual buildings that house Disney's most elegant and expensive hotel, the Hotel MiraCosta. It's a unique feature of this Disney park to have a working hotel totally integrated into the theme park.
Mysterious Island
Hidden away in the center of a volcano, Mysterious Island brings the science fiction of Jules Verne alive within the Victorian facades of his era. You'll be able to ride in one of Captain Nemo's submarines or take a Journey to the Center of the Earth on Disney's popular and most technologically advanced ride yet. The 20,000 Leagues Under the Sea is a dark ride, one that takes place inside, where vehicles are guided through still and animated scenes with special visual and sound effects.
Mermaid Lagoon
This is the area specifically designed for children, and it features characters from the Little Mermaid. The front of the area looks like the Palace of King Triton. Although it's above the water, it feels as though you're underwater. There are rides such as Jumpin' Jellyfish, Scuttles Scooters and Ariel's Playground. This area is also where you'll find the Magic Lamp Theater, which cleverly combines live action with animated electronics with a 3-D Genie movie. The double-decker Caravan Carousel allows you and 180 of your new closest friends to hang around in the same circles.
American Waterfront
The American Waterfront port of call is themed in the early 20th century. The SS Columbia passenger ship serves as an event venue and restaurant space. From this port, the DisneySea Electric Railroad travels to Port Discovery. The Twilight Zone Tower of Terror is located here, as is the Toyville Trolley Park.
Lost River Delta
This port is where you can venture to a Central American jungle on the Indiana Jones Adventure ride through temple ruins. Joining that is the Raging Spirits Roller Coaster. When you're ready to go to another part of the park, you can hop aboard the transport vehicle that goes between parks, the DisneySea Transit Steamers.
Port Discovery
Storm Rider is in this Port. At AquaTopia, you can take a boat that steers itself around rocks, fountains and whirlpools and just sit back and relax.
Arabian Coast
If you've read Aladdin, the most famous tale from 1001 Arabian Nights - or have seen the movie—you'll love the Arabian Coast themes. Take in the magic show that's hosted by Genie. Better yet, sail with Sinbad but (spoiler) be prepared to get a bit of a shower at the end.
RIDES
Here's more detail about some of most popular rides at DisneySea.
Raging Spirits - is a roller coaster ride with a big twist: a possible lunch-losing, full circle loop. Have fun with that.
Tower of Terror - is not for the faint of heart or those with weak stomachs. You may wait for two hours for this attraction, but as you wind your way to the pseudo-faulty elevator, you'll encounter lots of artifacts to look at along the way. That and the nervous chatter among the doomed should keep you entertained.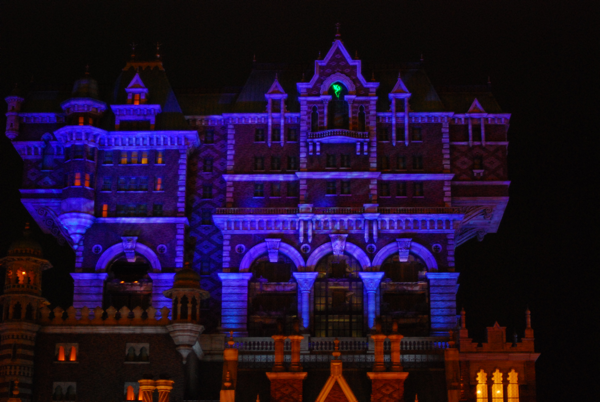 Photo credit [gwaar](https://www.flickr.com/photos/paulsynnott/2874704887/)
Storm Rider - 5 ½ minutes of unexpected cabin special effects provides a stimulating ride akin to Star Tours, but this one is much more technologically advanced.
Sinbad's Seven Voyages - is a long ride at 7 ½ minutes with the shortest wait time usually. Why? In short, it is similar to Small World, which is totally aimed toward young children.
Journey to the Center of the Earth - If you've wondered what's in the center of the Earth, this is Imagineering's rendition. You ride a train down to discover that the dark underworld is filled with stalactite formations, which are aglow with fluorescent colors. Who knew?
Toyville Trolley Park - Featured here is an interactive 4-D attraction that opened in 2012. Visitors wear 3-D glasses and ride in spinning vehicles through virtual environments that mimic carnival games. In the egg toss and balloon pop, riders can use shooters, which is a popular part of the ride.
ATTRACTIONS
Porto Paradiso Water Carnival - is where more than 200 performers wander through the Mediterranean Harbor for 40 minutes. If you're staying at the Hotel MiraCosta in one of the best rooms (read: the most expensive rooms of a hotel that has only expensive rooms), you may have a great view of this spectacle, especially the evening pyrotechnics and other effects that keep the audience engaged. If you stay elsewhere, but want to relax and still comfortably see the show, you can eat at one of the hotel restaurants that have a view of the festivities.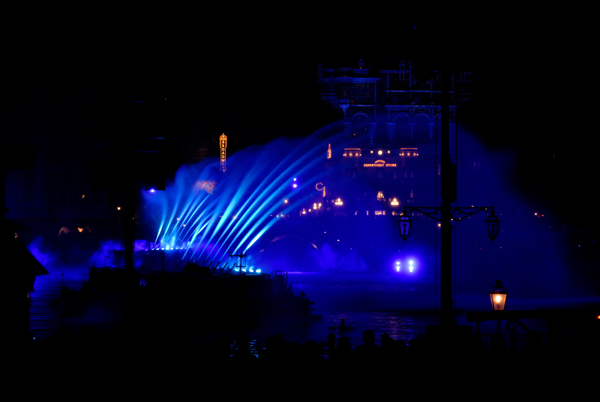 Photo credit [Bong Grit](https://www.flickr.com/photos/bonguri/2587112430/)
Sail Away - located at the American Waterfront, is where Mickey makes an appearance, which will awe the children in your party.
Encore - is housed on the same ship as Sail Away and is the top attraction of the port, which is based New York themes. There you can experience a compilation of 21 Broadway shows.
Indiana Jones and the Temple of the Cracked, er, Crystal Skull - is packed with special effects and excitement for your ride in a jeep through the Central American pyramid. You're searching for the fountain of youth (bring some back, ok?) while ducking insects and encountering booby traps and the inevitable rope bridge. One section of the ride makes you feel as though you're traveling backwards, an eerie feeling that seems very real. The spoiler video is here:
ENTERTAINMENT FEATURES
In addition to the singing gondoliers, the park has a Maritime Band to keep you in step. Wandering entertainers such as the Living Statues—well, of course they don't really move much—the Italian Flag Squad and seasonal shows for spring, Halloween, winter and Christmas keep things moving and entertaining. Shows such as the ones designed for the 10th park anniversary, Be Magical and Fantasmic, continue to enjoy popularity.
FOOD VENUES
Food venues at DisneySea are more likely to have table service as part of the appeal to adults. Did I mention that this is the only Disney park to offer beer and wine at restaurants? Magellan's is Disney's most expensive restaurant, and they offer a complete wine list. If that's too rich for your taste or budget, snacks, bakeries and other casual spots are sprinkled around, too.
If this seems so enticing that you want to visit this year, here's a site that predicts the best and worst times to go to DisneySea.
Previous:
Japanese Women: Family and Workforce Challenges
Next:
Tokyo Disneyland Attractions