Tokyo Disneyland Attractions
Diane M. Sattler, Ph.D.
21 Aug 2015
The Greek philosopher Aristotle, author of the first known book about dramatic intent, "Poetics," indicated that the sensory effects of costumes, scenery, music and so forth provide spectacle for a drama. There may be no greater spectacle in the world than Disney parks, and Tokyo Disneyland, which opened in 1983, is no exception, for this park, ranks second in the world only to the Magic Kingdom in Florida. Stimulating sounds, colors, sites and experiences draw nearly 20 million visitors to this park annually, making the twin theme parks of DisneySea and Tokyo Disneyland the most profitable Disney park in history, and the only one that isn't owned by the Walt Disney Company (they are owned by the Oriental Land Company).
Good planning went into the Disney Imagineering design of this park spread out over 115 acres in Urayasu, Chiba, Japan, so it's not like walking on the streets of Hong Kong on New Year's Eve cheek to cheek. Still, it's busy, so consider splurging on the Fast Pass ticket, especially if your time is limited. By the way, the standard one and two day admission passes do not cover DisneySea. Although Tokyo Disneyland is worth seeing, if you have to choose between them, see DisneySea. Tokyo Disneyland mirrors their other locations at some points, but DisneySea is unique. Also, whereas Disneyland's emphasis is on family entertainment, DisneySea's provides more adult fun. Enough. Come take a overview of the park, then a closer look at each of the seven lands of Tokyo Disneyland and stop to explore some of the rides and attractions.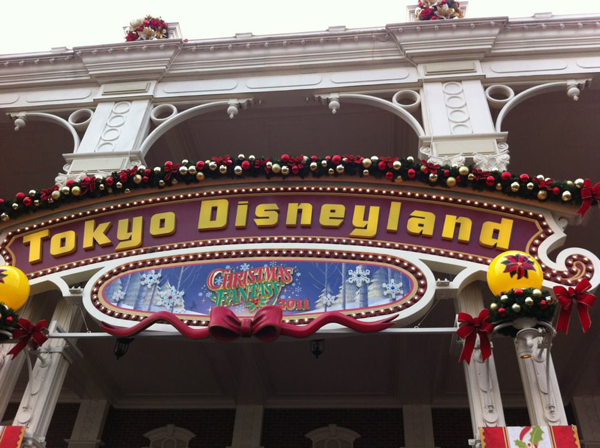 Photo credit [Nacho](https://www.flickr.com/photos/gonmi/6471871679/)
Overview
There are seven lands within Tokyo Disneyland, and if you've been to Disneyland in California or the Magic Kingdom in Florida, you'll recognize the familiar ones: Adventure Land, Western Land, Fantasy Land and Tomorrow Land. In addition to renewing acquaintances with those old friends, you'll find World Bazaar and two mini-lands: Toon Town and Critter Country. When you enter the park, you'll come into World Bazaar.
World Bazaar
This main entry area, similar to the usual Main Street, features (surprise) shopping. It's themed around 20th century America, so why does it have "world" in the name? Well, think about it a minute. Since you're in Japan, America represents a large part of their worldview, one that they generally have seen or want to see and are getting just a taste of it right here in Japan. The big difference between this land from similar ones in the other parks is that the two intersecting streets sport protective overhead canopies, which come in very handy in extreme sun or showers.
Toontown Mini-land
Toontown is a mini-land that takes a peek into the looking glass at the two U.S. Disney parks, reversing the layouts found there. It's themed after "Who Framed Roger Rabbit," and features two of the park's most popular attractions: Mickey's House and Meet Mickey and Roger Rabbit's Car Toon Spin. Mickey's House has the longest wait times of any attraction at the park. It offers a walk-through where visitors can meet and greet Mickey, which especially charms the youngsters. The Car Toon Spin is a dark (inside) ride that starts at the Toontown Cab Company, where you board a Toon Taxi that spins you throughout a 3½-minute ride. I'm sure that your burning question is about the character named "Smart Ass." Well, rest easy. His name isn't spoken at this family park attraction; we don't want Walt turning over in his grave.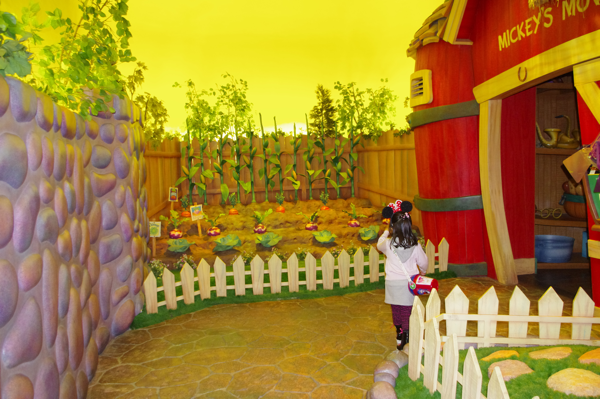 Photo credit [Emran Kassim](https://www.flickr.com/photos/emrank/5717980087/)
Critter Country is Splash Mountain
The other mini-land, Critter County, is a one-man band with only one attraction, Splash Mountain, which inspires everything in this land. Take a ride on the Beaver Brothers Explorer Canoes, and get your Splashdown photos at a nearby shop. Check out the colorfully, alliteratively named Hoot and Holler Hideout and the Rackety's Raccoon Saloon.
Adventureland's Two Areas
Adventureland has two main areas: a New Orleans area and a jungle themed area. The major attractions here are familiar:
Pirates of the Caribbean—is described as a log flume combined with a dark ride that takes you back to revisit the 17th century Caribbean pirate era.
Jungle Cruise - a simulated riverboat ride on tramp steamers through the Amazon, Congo, Nile and Mekong Rivers on park waters dyed brown, all within the 10-minute ride in the New Orleans section. Fully appreciating this experience seems to require what poet and philosopher Samuel Coleridge called a "willing suspension of disbelief."
Enchanted Tiki Room - This familiar area has been given more of a Hawaiian twist in Tokyo, where there is a new 9-minute musical show. The show is in Japanese, but staff loan hand-held English captioning devices.
Western River narrow gauge railroad - is a unique feature for the park that winds through the exotic area.All those trees are not really exotic, however. One well-known type is an orange tree that's planted upside down and has vines growing on its root system. Although that sounds phony, it's totally suited to the exotic environment. I wonder how Shinto followers like the designers' use of their revered trees?
Westernland Consists Of Three Areas
Area number one: The Rivers of America—Stay with the boats here. Two park visitors who left the boat to go ashore drowned in these waters. This area houses a couple of popular attractions.
Mark Twain Riverboat - Board the Mark Twain Riverboat, also known as the "floating palace" due to the sumptuous detailing within, and you'll enjoy a leisurely 12-minute float past many major park attractions on this registered watercraft. Country music keeps passengers lively during the daytime. In the evening, the riverboat's atmosphere does a 180-degree turn, and Japanese couples stroll on board with romantic music.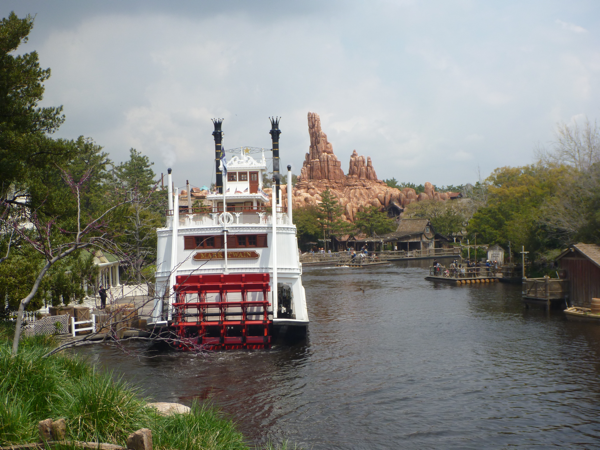 Photo credit [fortherock](https://www.flickr.com/photos/fortherock/6966008548/)
Tom Sawyer Island - The island is surrounded by waters of the Rivers of America, so the raft ride is a natural. The rafts remind me of pontoon rafts used on lakes in America, but logs serve as pontoons are. It's a good thing the ride is a short two minutes, as it's standing room only.
Area number two: Big Thunder Mountain—where you're blazing through a mountainous desert on a runaway train, winding through bat-filled caves and flashing by various animals in the four-minute ride that seems much shorter, especially after your long wait to get aboard.
Area number three: Country Bear Theater—You can experience the songs in this show that's a sentimental favorite in a mix of English and Japanese, but the three shows are in Japanese and have no English translations available onsite.
Fantasyland's Entryway Through Cinderella's Castle
And—it's almost exactly like the one at Florida's Magic Kingdom. It features dark rides through scenes from Disney movies such as:
Haunted Mansion - Versions of this mansion exist in Disneylands around the world in one land or another. Tokyo's Haunted Mansion is classic on the inside but unusually decrepit on the outside—overgrown and crumbling like the ruins of a Japanese castle. The creepy effects are eerily high lighted at night. You exit out of the crypt into the upbeat Fantasy Land into the extreme opposite end of the happiness spectrum. Whew!
It's a Small World - Have you ever had a song that just won't get out of your head? Well, that is known as a "sticky" song or more poignantly, an "earworm." You can bet that after you exit from It's a Small World, the park's longest ride with the shortest wait line, that the sticky song will be running unbidden through your head for days, weeks and possibly years ahead. It's not too late to save yourself!
Pooh's Hunny Hunt - This attraction, unique to Tokyo Disneyland, is close to the hearts of many. The charming Winnie the Poo characters jump alive from the storybook throughout a dark, trackless ride.
Tomorrowland
Space Mountain - Space Mountain is a classic roller coaster that was refreshed in 2007 by adding some effects to the ride, such as the hyper-speed tunnel ride at the end.
Star Tours: The Adventure Continues - got an award-winning revamp in 2013. It is a 3-D motion simulator where vehicle rests on a platform that moves your vehicle all around. Although you don't travel, thanks to virtual reality effects, you feel as though you're in a moving vehicle. By the way, if you fight it rather than "giving in" to the experience, you could suffer a bit from, well, motion sickness (yuck). If you're susceptible to that, skip this ride. Others can be the space tourists who wear 3-D glasses to experience one of the 54 possible different journeys selected by the system, and they can tell you about it, while you remain with feet firmly planted on terra firma!
Speaking of tomorrow, next time we'll bring you more nuggets of goodies from this, the always intriguing and at times inscrutable "Land of the Rising Sun", Japan. OK, one last thought for now. The Japanese names for Japan, Nippon and Nihon, both mean "the sun's origin," in case you had a burning desire to know where the rising sun moniker came from for this country in the Far East.
Previous:
DisneySea Tokyo
Next:
Tokyo Entertainment Restaurants