Shukubo and Other Unusual Japanese Lodging Experiences
Diane M. Sattler, Ph.D.
18 Sep 2015
Welcome back! We'll begin today's blog by touching on just a few more temple lodging (shukubo) opportunities that have English websites. Then we'll move along to other unusual lodging experiences, some of which may be a stretch for you to consider, but keep an open mind. At least you'll get a glimpse of the full range of lodging opportunities beyond traditional hotels. It's fun to imagine yourself in these settings even if you don't give them a try.
Mount Mitake (Tokyo) Komadori-Sanso
To stay here without meals is only 5,400¥ ($44) or 8,600¥ ($70) with two meals. Komadori-Sanso offers Takigyo in good weather at an additional current cost of 7,000¥ ($57), which is a kind of ascetic training cum waterfall meditation previously described that some enthusiasts swear enhances their energy. At this shukubo, guests can choose between a Western and Japanese breakfast. For quiet meditation, the inn's shrine is minutes away. If you can splurge a bit, the view from the Bupposo room, which is the best at the inn and a bit pricier, is priceless.
Nara—Yoshinosan Chikurin-in
When you stay at this shukubo, you're in the midst of history. That's a recurring theme, isn't it? It's in Yoshino, which is a UNESCO World Heritage site. The temple itself is the founding training hall (dojo) of the Shugendo religion. The cost of staying here is on the higher end of the range: with two meals, you'll pay 13,000-15,750¥ ($73-$127) to stay in one of the 55 guest rooms. Gardens surround this luxurious shukubo. Men and women alternate days relaxing in the two communal baths with different views, which, given that women are from Venus and men are from Mars—or is it the other way around? Whatever, that could explain a lot.
Oosaka—Katsuou-ji Outyokaku
Historic Katsuou-ji is nestled in peaceful Mino Park, which is replete with waterfalls, museums and several other temples. Katsuou-ji, founded in the year 727, is well known for good fortune in battle, so it was where many famous warriors came to pray for supremacy in battle. The shukubo now offers 20 guest rooms for up to 250 people and especially appeals to those who want a quiet place for meditation and contemplation amidst a beautiful natural setting. That must be at least one good reason to pay 9,000¥ ($73 without meals) for the privilege of staying overnight.
Beyond shukubo: Capsule hotels (kapusera)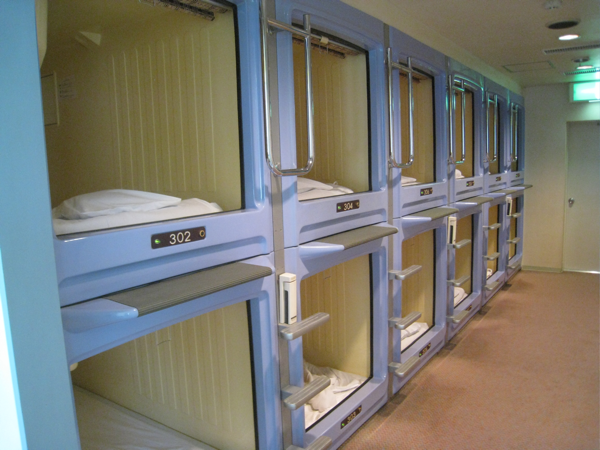 Photo credit [Travis Rigel Lukas Hornung](https://www.flickr.com/photos/awfulshot/4244490088/)
If you're a thrifty traveler, you could slip into a capsule hotel for 3-4,000¥ a night. The first one sprung up in Osaka in 1979, and now they're scatted around the country. If you're going to stay longer than one night, these may not be a good choice for you, because you'll be required to take all of your belongings with you during the day, regardless of how long you intend to stay. The capsules are stacked double-decker style. They look a bit like U.S. train berths, but are much roomier and nicer and even a bit home-like and somewhat bigger than, say, a coffin. Ok, that one might be a stretch at some places.
Although capsule hotels cater to male businessmen, some capsule hotels have separate floors for women, including separate elevators. Propriety reigns here. Some capsule hotels have English-speaking staff. Others have instructions in English (read here: "rules that only gaijin don't know, need to be told and shouldn't ignore"), which are culturally reasonable and fairly consistent throughout this type of hotel, such as:
Take off your shoes and store them in a locker, no surprise here, right? Also, take the locker key to the front desk. Since checkout is in the morning, I guess they figure that no one's going to blow town without their shoes!
Put your small stuff in a your assigned locker (the one on the key ring that you got when checking in) and your luggage and other large items in a separate, larger locker. Even though Japanese are known for their honesty, these hotels are full of transients and maybe some shifty gaijin on the side, so don't leave items in your unlockable capsule.
Some capsule hotels have coin laundries and a few of the omnipresent Japanese vending machines, but it's a major "no-no" to eat or drink in your capsule. If you have the munchies or nicotine urge, go to a lounging area.
Internet stations are often available. After all, the Japanese are as addicted to their electronics as we are, and maybe even more so.
Cover your tattoos, as tats remind Japanese of the Yakuza crime syndicate, which isn't a good thing.
Clean up your act. First, bathe in the washing area with the toiletries provided before getting into the communal baths with the other guys. After bathing, change into nightclothes (which could be yukata, sweats or other things) if provided, or at least get into some clean clothes for the night.
A peek inside reveals a space about the size of a single futon, but with a surprisingly comfy environment: a light, built-in TV/radio combo, and some electrical outlets are included. Some capsules even have free WiFi.
This almost goes without saying, but pull the curtain or close the door for privacy in your capsule—at least visual privacy. Remember, the walls are thin. Earphones or earplugs may come in handy.
Check out (when fully dressed, naturally) by 10 a.m. unless your particular capsule hotel has a different checkout time.
Even more far-out: Internet Cafés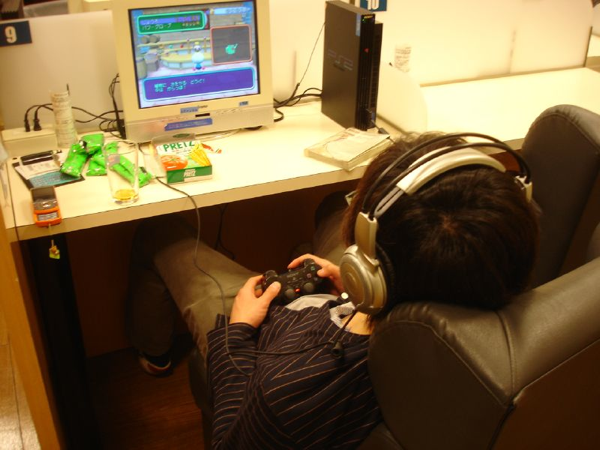 Photo credit [David Lisbona](https://www.flickr.com/photos/dlisbona/139392639/)
Traveling alone on a shoestring budget? Internet cafes, located next to train stations, are open 24 hours a day. A comfortable chair usually is provided, and some even have showers. The advantage? It is the cheapest place to stay overnight in Tokyo, but you'll be likely sharing the space with homeless Japanese who are jobless. If you're thinking of going this route, check to see if the café offers a discount from the hourly rate for those who stay longer. I-Cafe Akiba Place on the 8th Floor of Akihabara is one of the best equipped for an overnight stay in Tokyo. You will need an ID for membership in this café, so that minimal screening keeps some unsavory people out. It probably would be OK to stay there until the next train arrives, but you may not want to plan your whole trip around it. This café offers showers and even twin seats should you be traveling with a friend. I would recommend the Internet café option for the young and the young-at-heart intrepid travelers.
At an Internet café, you may be sharing quarters with young Japanese who are jobless, known as "freesters." Some of these people are jobless by choice because they want the freedom to use their time as they wish. Some don't want to jump on the not-so-merry-go-round of traditional Japanese jobs and be part of the lock-step workaday world. Others may have been skipped over at the times when companies are selecting employees for a job, most often just before high school or university graduation. Some may have sealed their fates by dropping out of high school. Since employers look at employee selection as a lifetime commitment, if students are not selected then, they have to take lesser jobs without benefits such as union membership and a guaranteed pension upon retiring.
Staying at an alternative form of lodging can give you a much different picture of Japan than if you were to stay at a traditional hotel. Sometimes you'll discover that below the society's surface a rather dark belly of Japanese culture exists, just as it does in every other society in the world—regardless of how much we'd like to gloss over it.
Previous:
Temple Lodging (Shukubo) with English Websites
Next:
Still More Unusual and Alternative Japanese Lodging Opportunities