Special Japanese Trains
Diane M. Sattler, Ph.D.
9 Oct 2015
Full Steam Ahead!
You can travel back in time as you ride the rails in the steam train in Gunma Prefecture west of Tokyo. You'll travel through some picturesque rural areas of Japan on either of the two routes. You can stop off at Ikaho Onsen, which our readers will recognize as a hot springs. This ancient area dates back to the Edo period, and the local food represents that. You could also enjoy panoramic views from Oni Oshidashi Park that translates as the "Devil's Push," because the volcano centuries ago seemingly squeezed the rocks up to the surface and scattered them about the land. The Gunma tourist office keeps their website complete with up-to date schedules.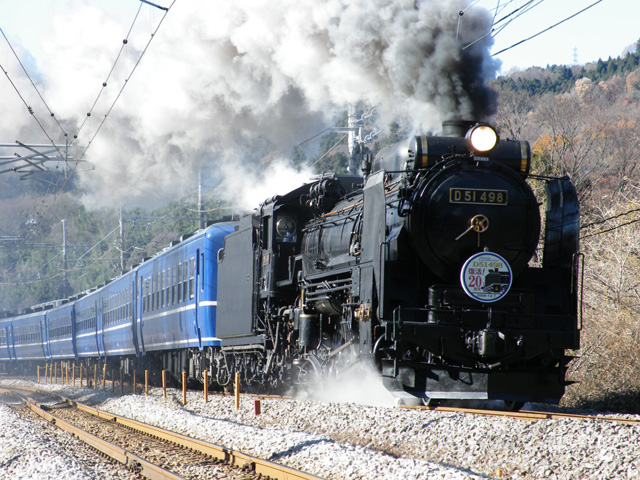 It's all about the food
There is a train that's known as the "restaurant train." This train is in the Chiba Prefecture, which is where busy Narita Airport is located. Not only can you enjoy a scenic train ride, you can indulge in chef prepared Japanese gourmet foods such as ise ebi, Japanese lobsters. They are rare and thus expensive, and something that I'd personally skip after an unfortunate encounter with a local Okinawan fisherman who wanted to share his fresh lobster catch with us at his home by the sea. Being foreign visitors, we didn't feel comfortable saying no, so we indulged. Well, it was probably more from the cutting of the lobster on an old tree stump obviously used before for such things. The elderly but spry fisherman used his old, not-too-clean knife on the lobster, and you can guess the rest of the story. I later got sicker than a dog, and won't go near raw lobster again, even that well prepared by qualified sushi chefs. If you wish, however, you can enjoy it on the train in elegant surroundings, and I'm sure you'll have a totally different take on the experience. The ise ebi is accompanied with a menu of either Italian food on one of the trains or sashimi courses on another. There's also a dessert train and a Japanese dessert train. All food trains are popular and require reservations; however, their website is in Japanese only, so get a friend or hotel personnel to help.
Between the Rocks and a Hard Place
Resort Odoriko (Resort 21 Kurofune) train is a rapid express train in the Shizuoka Prefecture. On one dramatic portion of the trip, you're on a narrow strip of land between the sea on one side and the mountains on the other. In the area around Atomi Station, there are onsen (hot springs) and beaches—and you can even take a 10-minute bus ride to the respected MOA Art Museum. At the other end of the train ride, Shimoda, is a port with a retro flavor, dried foods, gas lighting and an ancient sake place. Reservations are available in English on Japanican.
Characters Are on These Trains
It probably comes as no surprise to you that Japan, the world of anime and manga, has trains that are decorated with character themes. If you travel a bit around the country on trains, you're almost sure to encounter one no matter what part of the country you're in. Some are decorated only on the exterior; others carry their themes inside on ceilings and walls and even on the seating areas. The following are a few examples of these trains.
Anpanman Train - commemorates the popular Japanese character and traverses the beautiful Seto Ohashi bridges that run from the mainland to Shikoku island.
Chunibyo Train - A modern anime, Chuni-Byo had its own train, a limited edition, that ran until early 2015.
Doraemon Train - This is a Japanese cat-like robot character popular since the 70s that inspired a streetcar design for Takaoka City, where the artist was born.
Gegege No Kitaru Train—Located in the sparsely populated prefecture of Tottori, this area is home to the author of the gegege no kitaru manga, and you can't miss his memorabilia spread throughout the town.
Kumamon Train - If you visit Kumamoto in the Kyushu Prefecture, you'll surely see this train that's based on the Kumamon character. If you take it, you'll be wowed by the ocean views.
Moomin Train - Moomin is a Scandinavian cartoon series popular in Japan that is the décor for this character train that goes through the Chiba Prefecture.
Panda Train - This train features four special panda seats and is routed through Wakayama Prefecture's beaches.
Pokemon Train - runs through the Tohoku region. Even the seats are decorated with images of this internationally famous character.
Tama Den Train - This cat-themed train is named after a real cat from the Wakayama train station where it is located.
You'll be Seeing Stars in Kyushu
The Seven Stars is Kyushu's luxury train that debuted in 2013. It may have gotten that name because there are seven prefectures in Kyushu. There are two tour options on this plush train. The shorter is a two-day overnight trip throughout northern Kyushu. The longer, 4-day/3-night tour goes completely around Kyushu, where you'll see hot springs, volcanoes and cities pass by the large picture windows. If you want a taste of high-class train travel from a bye-gone era, this elegant train is for you. Tickets are limited and hard to get. The Seven Stars starts at 700,000¥ (about $5,800) for a 4-day trip. However, there are some good alternatives that allow you to design your own tour of Kyushu that also will cost less. Check out the All Kyushu Regional Pass or the Japan Rail Pass. I would recommend devising your own trip, as you can stop off and spend time at any of the spots that appeal to you.
What's Coming Down the Rails Next?
Much is in store for the future of rail travel in Japan. The new JR East luxury train is expected to debut in 2017, but the route hasn't been revealed yet. It will be a luxury hotel on the rails. Decorated in gold, these cars will swathe the 34 passengers in pure luxury on this 10-car moving hotel. One car will accommodate two deluxe suites. One of the two rooms in the suite will have a second level with tatami mats on the floor for sitting and picture windows for pampered passengers to watch the countryside go by.
Another car will be a restaurant car. You'll notice that I didn't say "dining car," for this train is far too luxurious to share that name with other, lesser train cars…not for this train. Although details are not yet forthcoming, we can picture meals that will even be a step above those currently offered on the special restaurant trains. The rear car in the lineup will be a lounge car where the passengers in the 15 standard suites who aren't privileged enough to have their own second-story viewing area can gather to enjoy the views in the most relaxed way possible in this crowded country: no traffic, no driving and no stop lights!
And the cost of all this luxury? Um, although the prices haven't been released, suffice it to guess that if we have to ask, we probably can't afford it, but it will probably significantly exceed the cost for the Seven Stars. According to the Japan Times, JR West plans to launch a similar luxury train in 2017. Until we meet again, with the Japan Times link you can get a sneak peek into the future of Japanese railroads with artists' renderings of what the trains will look like.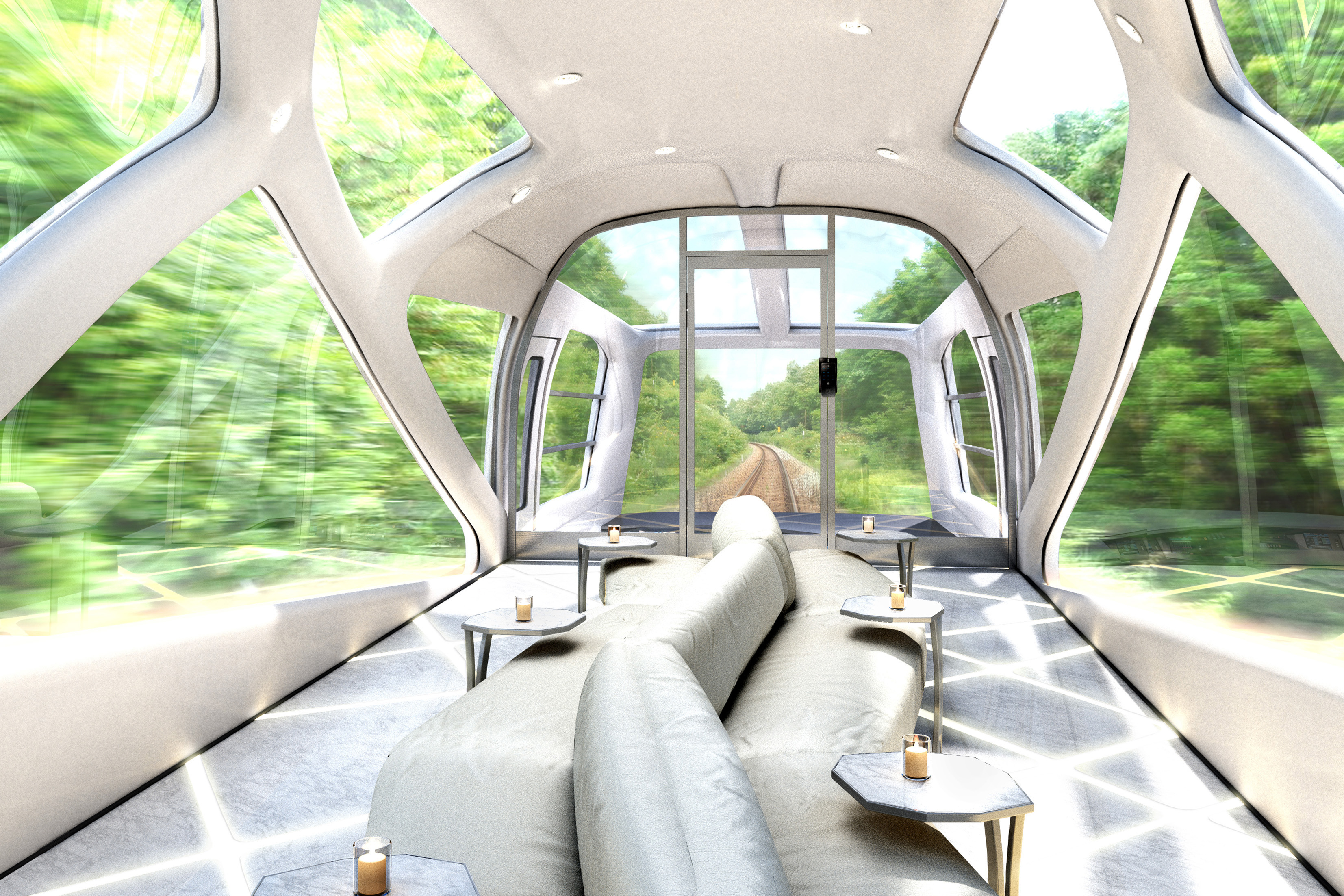 Photo credits Alt Winmaerik and JR East.
Previous:
Japanese IC Cards Aren't Just for Train Travel
Next:
Special Trains for Special Times