Special Trains for Special Times
Diane M. Sattler, Ph.D.
16 Oct 2015
Because we usually think of Japan as a very crowded country, it may come as a surprise that there are some areas of Japan that are very sparsely populated. One such area is Shirakami Sanchi, a protected forest and UNESCO World Heritage Site. One delightful way to see this area is on the Resort Shirakami Train.
Resort Shirakami Train
If you're looking for the fastest route between Akita and Hirosaki Stations, the Resort Shirakami train is not your best bet. This train is unusual. As it meanders by the mountains and along the seaside, it deliberately slows down at strategic places to allow passengers to enjoy the view. They take photos through the gigantic floor to ceiling windows from their luxurious reclining seats. What a concept! Americans are used to hustling between points A and B, so this train is a real departure from the usual. In fact, you'll take a leisurely five hours on your journey. Winter and summer are the most popular seasons for this activity, so the train runs three times per day. in addition to the scenic beauty, an advantage of going during these seasons is that you can stop off to enjoy a hot springs. At Koganesaki Furofushi Onsen you can soak in an hot tub overlooking the Sea of Japan or take a hike by one of the many lakes along the route. During the remainder of the year, the train runs only once a day. As you probably have guessed, reservations are essential for this popular excursion. If you're traveling with family, you can reserve a booth with a little table and a window all your own.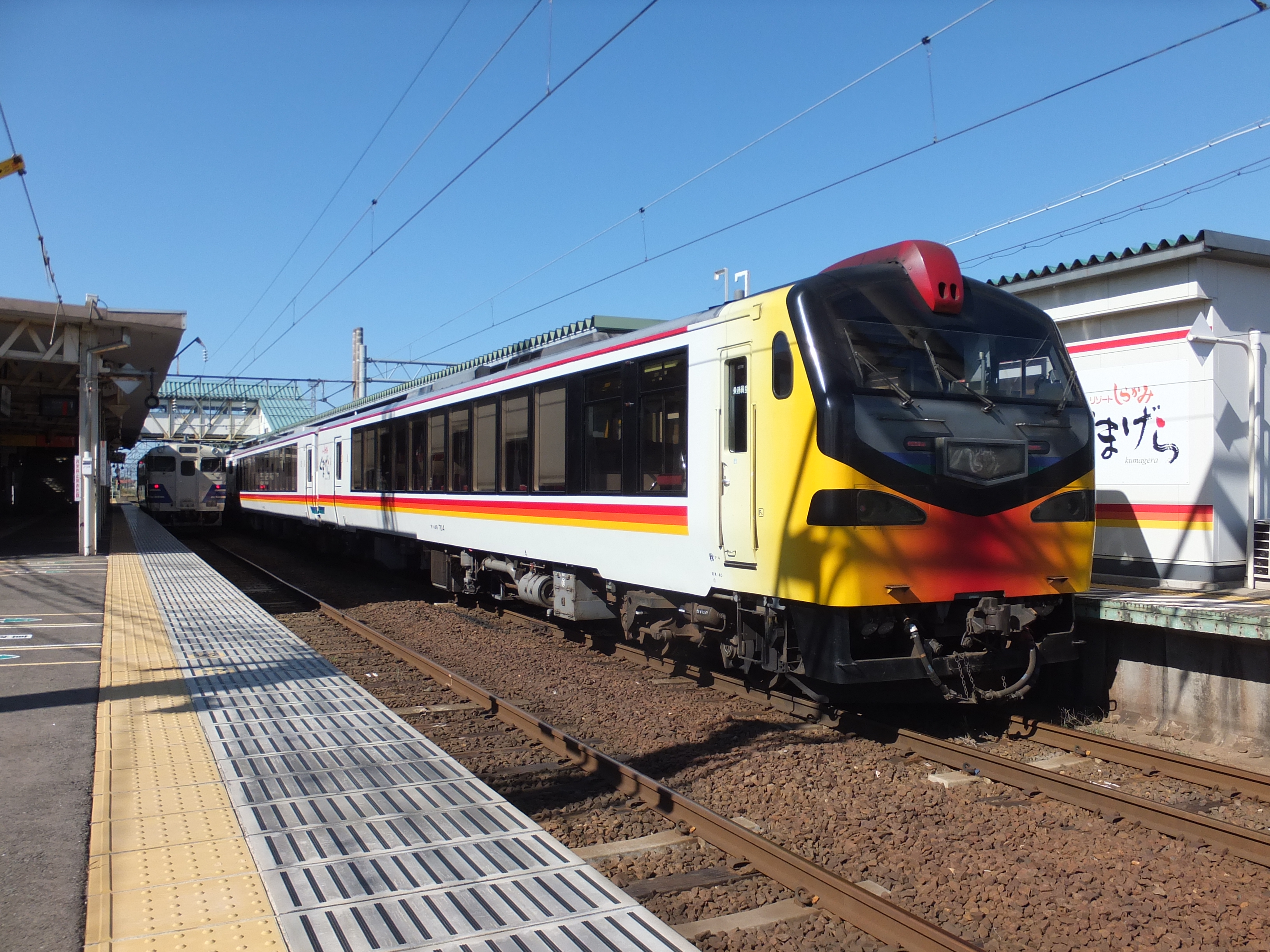 Other Trains with Water Views
Umi Shibaura Station - Yokohama has a train route, part of the Tsurumi line, that runs along part of Yokohama City. Even the station itself is right on beautiful Tokyo Bay.
Okuoikojo Station - Perched on a cliff overlooking a fairly new dam, this train travels across a bridge with great views as it crosses the reservoir.
Hozukyo Station - Located in Kyoto near the well-known Arashiyama district, this station has similar great views of the river to those of the Sagano Scenic train. So, if you can't book a seat on the Sagano train or find it too pricey, this may be an acceptable alternative to see the Hozugawa River area.
Above all the Fray
Uzui Station, Shimani, which is north of Hiroshima is on a bridge 30 meters above ground. It's not crowded, as usually there's only one passenger per day. Um, I don't think that it's the same person each time, but if it is, he's a real train buff who isn't afraid of heights!
Tosa-Kitagawa station in Kochi is another that's built high on a bridge. This one opens up on a river. As the train travels through the mountains, it straightens the route by running on many bridges that span mountains. This one definitely isn't for those with acrophobia.
Tunneling Down Under
Doai Station in Gunma is the place to be if you like the underground. This station in the western part of Tokyo will please you, as it runs underground for 70 meters. How does it get back up to the surface of the Earth? Well, folks have called this part of the trip, the ascent, "eerie."
Tsutsuishi Station, Niigata, is another station for those who love tunnels. This train actually goes through a mountain.
Misashima Station in Nigata is a tunnel train. The Misashima takes passengers to a popular skiing location, Gala Yuzawa. The route is so windy that passengers are only permitted to stand on the platform for a mere two minutes. Until then, they wait above ground at the station. They may not even have a clue that the train rails are beneath them until the train comes and they're permitted access to the rails below.
Special Trains for Special Times
Koshino Shu*Kura in Niigata prefecture is a special treat. Not only are you riding right by the Sea of Japan, but you're being entertained by onboard jazz musicians—and, perhaps throwing back a couple of jizakes, a locally produced sake.
Sunrise Izumo, in Shimane Prefecture, is one of the few remaining Japanese overnight trains. The complete run is from Tokyo to Izumo. The overnighter leaves the station at 10 p.m. and arrives right around 12 hours later, having made many stops during the night. I suspect light sleepers will be awakened about once every hour or so when the train stops to let passengers off and on along the way. You can rent a berth or make do with putting a futon down on the carpeted floor of one of the nobinobi cars. However, they're not private. Inexpensive, timed showers are available, but don't count on a sumptuous breakfast, as no food is served on this train.
Sakura by Train
The Yosun Line in the Shikoku region of the south offers early (mid to late March) views of cherry blossoms (sakura). You'll also catch some great views and pictures of the ocean and rural Japan scenery passing in front of the windows of this train.
The Sagano Scenic Railway in the Kansai region will take you from the blooming temples of Kyoto to the bamboo forest in Arashiyama. Check out this route to see the scope of Kyoto by nature's way.
The Oigawa Railway in the Tokai region is good to take to see Mt. Fuji, and the tracks are often lined with cherry trees. You can stop at hot springs along the way or at the Ieyama Station, which is close by a natural tunnel of cherry blossoms.
Just north of Tokyo is the Mooka Railway in the Kanto region that is especially scenic when the cherry trees are in bloom. This run is well known for its scenic beauty.
Perhaps one of the last chances during the year to see the later blooming cherry trees in mid- to late April is on the Tsugaru Railroad in the far northern Tohoku region of Japan's main island. The tracks are lined with cherry trees, and when others have faded by April these are still in full bloom.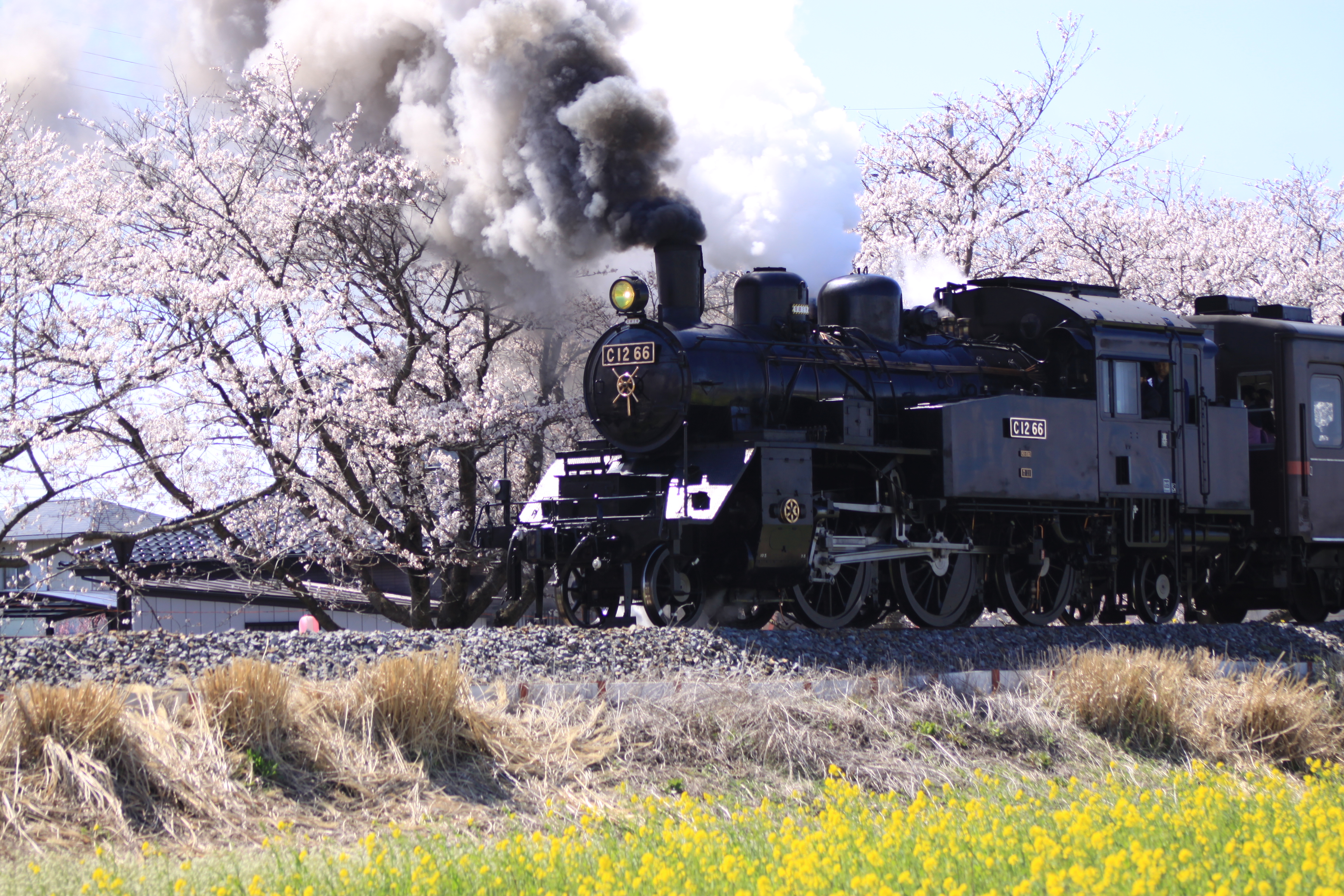 Christmas in Japan via Train
The Hakodate Christmas Fantasy is a steam train in Hokkaido that accepts your JR or Hokkaido Pass, but requires reservations. It runs weekends in December, Christmas Eve and Christmas Day. When you take the train from Hakodate Station, a great place to stop off is the Onumakoen Station. There, you'll be delighted to wander through the neighborhood by the water that's specially decorated for the holiday season.
The Kobe Luminarie in Kansai is a sight to behold, according to some of the more than three million visitors yearly. The Luminarie, which is about 20 years old, is just a short walk from the JR Sannoymiya Station at Kobe, which you can reach from anywhere in Kansai.
If your trip is after during the first part of the year, you might enjoy a stop in Shirakawago, which is notable because of its villages with a-frame shaped houses. They're aglow with lights during January and February.
Of course your trip to Japan will include stopping off at Hiroshima, won't it? Well, during the winter nights, the street right by the Peace Memorial Park is stunningly lit up. No matter when you go or where in Japan your trip will take you, no doubt you'll be aboard some kind of train at some point or another. These are just a few of the choices that await your adventures.
Photo credits 掬茶 and Hetarllen Mumriken.
Previous:
Special Japanese Trains
Next:
Japanese Train Museums